BATO YARD
NSW, AUSTRALIA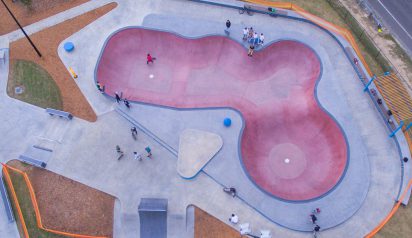 Located in Bateau Bay on the Central Coast of NSW, the Bato Yard Skate Park is fast gaining attention across the country as one of Australia's top skate parks.
At approximately 2800m2 Bato Yard has a mixture of transition and street with additional activities including parkour and basketball, pathways and the inclusion of social spaces and refuge areas.
The highlight of the park could be considered the bowl which has the ability to hold international competitions. At a depth of 3.6m (12ft) and 450mm (1.5ft) of vert, Australian Pro Skateboarder Renton Millar is calling it his "dream bowl". While the inclusion of an additional mini flow bowl area allows for users to develop their skill sets whilst increasing number of users within the facility.
The repurposing and recycling of materials has influenced artwork and additional features within the park. These features create some unique opportunities for users to find creative skate lines.
Check out a video of the space here.