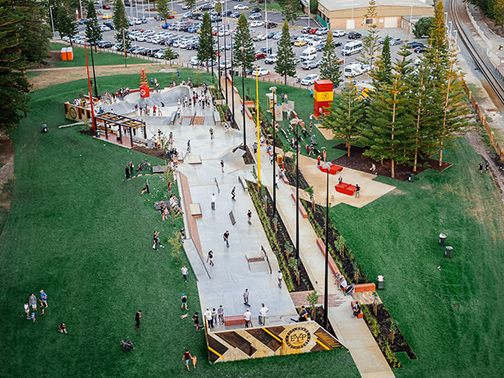 Opening Day video from Fremantle's Esplanade Youth Plaza
Fremantle's award-winning Esplanade Youth Plaza opened in 2014 and this video from the opening day captures the excitement and success of the day and of this iconic space.
The opening day event was attended by hundreds and included competitions, workshops, famliy fun and more. Hear from the community the impact this space has, and will continue to have on the community of Freo and beyond.
The Esplanade Youth Plaza, situated in the heart of Fremantle, embodies principles of social sustainability and offers opportunities for all participants. It is a central community hub for events, competitions and social opportunities.
With such a strong user community, the skateable/rideable terrain of the plaza is of a world class standard, ensuring the future growth and development of the sport to the highest standard. The plaza is not just an iconic facility due to its functionality and dynamic uses, but also due to its striking aesthetics and contemporary design. Positioning the plaza as one of the flagship public space developments in Australia.
The diversity of the community, and its recreational needs were brought to the fore, and as such, the plaza offers not only skate/BMX/scooter, but climbing, parkour, ping pong and other informal recreational opportunities. Together with the Dismantle Bike Hub, the facility is a central source of knowledge and skill sharing for the community through workshops and demonstrations, ensuring skill progression and development.
The plaza continues to draw crowds of all ages every day, making it one of the most active spaces in Fremantle and shows the value of these facilities in our communities.