LOGAN VILLAGE GREEN SKATEPARK
QLD, AUSTRALIA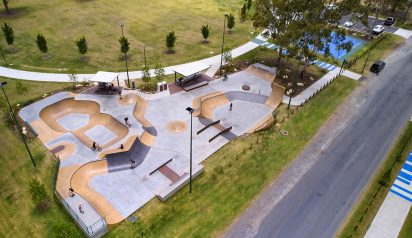 Replacing the much loved exisiting skate park, the new contemporary design celebrates the cultural and environmental heritage of the region whilst lifting the profile of youth in the area.
Throughout the consultation and design process themes around Logan Village's landscape character and particularly it's heritage timber and rail industries were identified by the local community as items to inform the design process, spacial layout and facility character.
Naturalistic planting, oxidized steel use, Australian timber and heritage green paint integrate the skate space into the Village Green precinct and ensures a consistent and sympathetic palette in the active and passive areas alike.